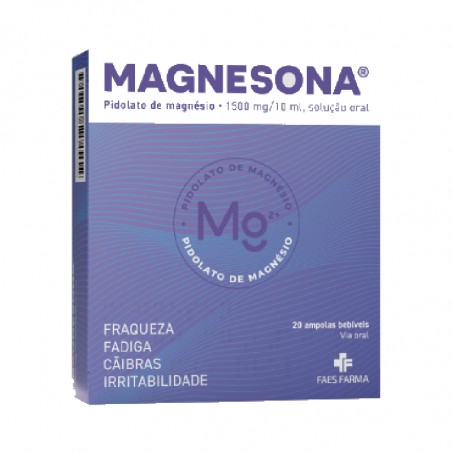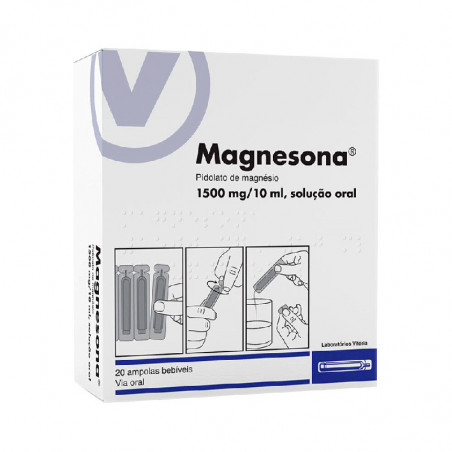 Magnesona 1500mg/10ml 20 ampoules
Prevention and relief of complaints suggestive of lack of magnesium.
Add to wishlist
Added to wishlist
Shipping from €13.80 to USA buy it today.
Calculate Shipping Cost
Magnesone is a non-prescription drug that should be taken for the prevention and relief of complaints suggestive of a lack of magnesium, such as weakness, fatigue, irritability, nausea, cramps and paresthesias (tingling). If you don't feel better or get worse after 15 days, you must see a doctor.
Active substance: Each 10 ml ampoule contains 1.5 g of Magnesium Pidolate.
Dosage and method of administration:
The average recommended dose is 2 to 3 ampoules per day. The ampoules should preferably be taken at the time of the main meals. Intended for oral use only. The duration of treatment should be at least 1 month.
Contraindications:
Hypersensitivity to the active substance or to any of the excipients. Severe renal impairment (creatinine clearance <30 ml/min).
If in doubt or if symptoms persist, consult your doctor or pharmacist.
In accordance with current legislation, non-prescription medicines in Portugal can only be delivered to the municipalities of Maia, Gondomar, Matosinhos, Porto, Santo Tirso, Trofa, Valongo and Vila do Conde. This limitation does not apply to shipments to other Member States of the European Union.