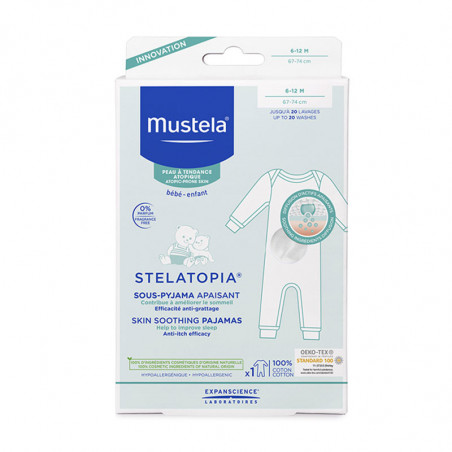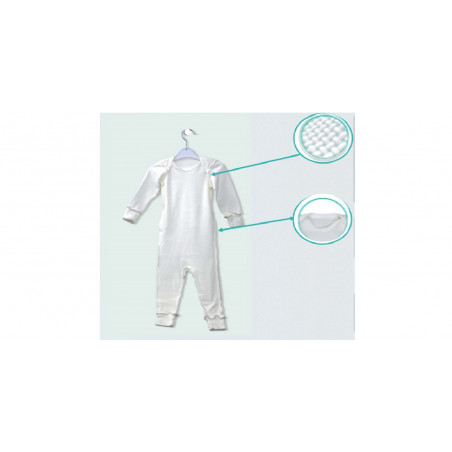 Mustela Stelatopia Skin Soothing Pajamas 6-12 months
Mustela Stelatopia Skin Soothing Pajamas 1st relief pajamas 100% cotton.
Indicated from 67-74 cm
Add to wishlist
Added to wishlist
Shipping from €9.50 to USA buy it today.
Calculate Shipping Cost
A unique Mustela innovation for the treatment of atopic skin, soft pajamas with soothing ingredients that help to minimize the likelihood of night itching.
Stelatopia's first soothing pajamas combine:

- a fabric 100% cotton designed for atopic skin.
- a standard 100 textile certified by Oeko-Tex: European label that imposes strict controls that guarantee the safety of the skin by prohibiting the use of harmful chemical substances.
- external seams: this allows to limit the risk of scratches.
- a fabric adapted to the child's growth: roll-up sleeves and feet, American collar.

A formula with:
Sunflower oleodistillate: with calming properties, which provides essential lipids for the construction of the skin barrier;
Avocado oil: which helps to strengthen and protect the hydrolipidic film to promote the restoration of the altered skin barrier in skin with atopic tendency;
Ceramides: which help to restore the skin barrier;
Squalane: a natural emollient, similar to certain skin lipids;
Vitamin E: antioxidant.

Thanks to its result, the soothing Stelatopia pajamas improves children's sleep from the 7th day of use.

Tested under dermatological and pediatric control. High skin tolerance. Hypoallergenic. Formulated to minimize the risk of allergic reactions. Formula 0% perfume, paraben, phthalate, phenoxyethanol.
Directions for use:
Pajamas must be in direct contact with the skin, seams facing the outside.
These outer seams help to limit the risk of irritation and itching.
It can be worn alone or under the usual pajamas.
Use as a complement to the daily application of an emollient care.
Wash at 30 ° C.
Up to 20 washes.