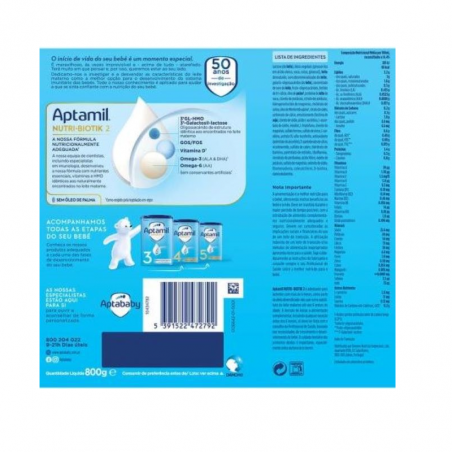 Aptamil 2 800g
Transitional milk - from 6 months.
Add to wishlist
Added to wishlist
Shipping from €80.25 to USA buy it today.
Calculate Shipping Cost
Aptamil 2 is a transition milk, suitable for babies from 6 months of life until the end of lactation as part of a diversified diet, and should not be used as a substitute for breast milk before 6 months.
Features:
Baby milk with a nutritionally balanced formula that provides your baby with all the nutrients necessary for proper development.
Contains Pronutra Advance, a mixture of Prebiotics (scGOS / lcFOS (9: 1)), Posbiotics and HMO 3'GL (3`Galactosyl-lactose). This unique combination promotes the development and functioning of a resilient immune system through the intestinal microbiota.
Prebiotics - the Aptamil formula is supplemented with short-chain galactooligosaccharides and long-chain fructooligosaccharides (scGOS / lcFOS, ratio 9: 1) that positively influence the development of the intestinal microbiota in healthy children, supporting higher levels of Bifidobacterium and decreasing harmful bacteria.
Oligosaccharides from human milk - occur naturally in breast milk and constitute its third major component (after fats and lactose). They are especially valuable because they reach the undigested intestine. In the Aptamil formula we find HMO 3'GL (3 galactosyl-lactose).
Directions for use:
Wash your hands thoroughly and use clean and sterile utensils. Boil the water and let it cool down to approximately 40ºC. Pour the appropriate amount of water into the bottle. Add the indicated dose of powdered milk using the measuring spoon. Cover the bottle and shake vertically vigorously for 10 seconds ensuring complete dissolution of the powder. Before feeding, make sure the milk is at the right temperature. After preparation, milk should be consumed immediately or at most within the next two hours. Never keep the remnants of the dose.