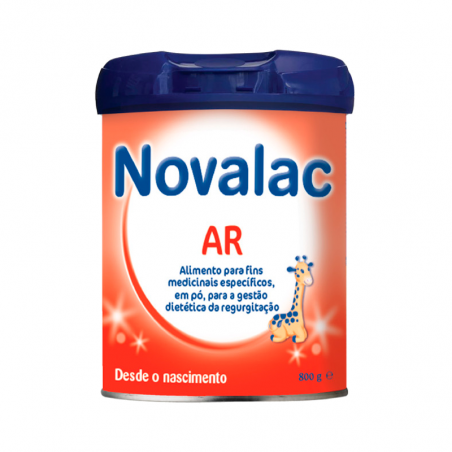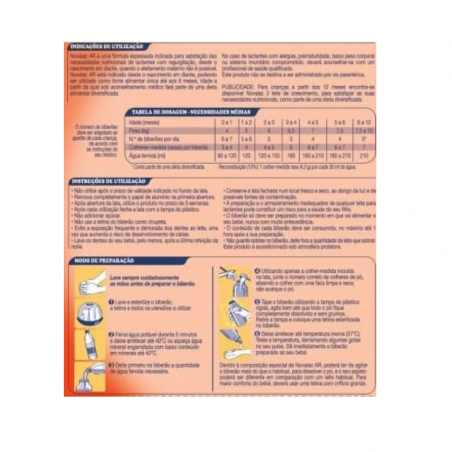 Novalac AR 800g
Anti-regurgitant milk - 0 to 12 months.
Add to wishlist
Added to wishlist
Shipping from €80.25 to USA buy it today.
Calculate Shipping Cost
Novalac AR replaces in the daily diet the milk formula for babies between 0 and 12 months that you usually use. It is a milk for infants with frequent regurgitation that covers all nutritional needs from birth to 1 year of age, and can be used as a sole food source up to 6 months, age from which, under medical advice, it will be part of a diet. diversified food.
Characteristics:
Unique composition.
Contains starch.
Liquid remains in the bottle.
It becomes thick in the stomach.
Decreases regurgitation.
Usage advice:
Always wash your hands carefully before preparing the bottle. Wash and sterilize the bottle, teat and all utensils to be used. Boil drinking water for 5 minutes and let it cool to 40°C or heat bottled mineral water with a low mineral content to 40°C. First, pour the necessary amount of boiled water into the bottle. Using only the measuring spoon included in the can, add the correct number of spoons of powder, smoothing the spoon with a clean, dry knife; do not settle the powder. Cover the bottle using the rigid plastic cap, shake well until all the powder is completely dissolved and free of lumps. Remove the cap and place a sterile teat in the bottle. Allow to cool to lukewarm temperature (37ºC). Test the temperature by pouring a few drops onto your wrist. Immediately give the prepared bottle to your baby. Do not store leftovers in the bottle, throw away the amount of leftover milk.