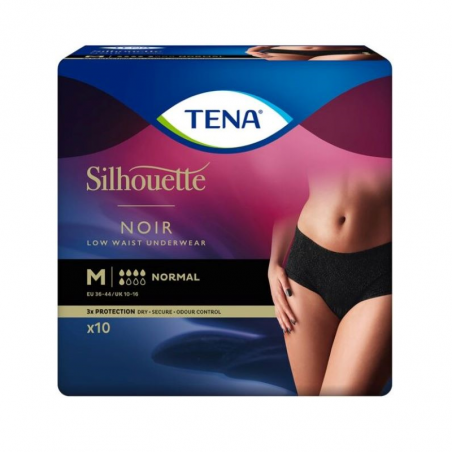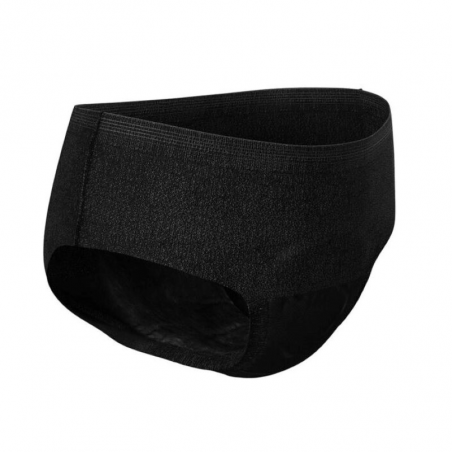 TENA Silhouette Normal Low Waist Black Size M 10units
Designed for moderate incontinence problems. Incredibly discreet and totally invisible under dark colored clothes.
Add to wishlist
Added to wishlist
Shipping from €23.90 to USA buy it today.
Calculate Shipping Cost
TENA Silhouette Normal Black Low Waist they look like your normal underpants, providing discreet protection against moderate urinary problems. This incontinence underwear features an elegant black color inside and out, as well as a super absorbent core that quickly blocks moderate losses and protects against odors, for incredible discretion. With its elegant appearance and a soft and comfortable stretch fabric, you will discover how discreet your underwear for incontinence can be.
Features:
Like underwear. Protects like TENA: Absorbent low-waist underwear designed for moderate urinary problems.
Exceptional safety: The TENA Silhouette range provides you with triple protection against losses, odors and moisture, helping you to stay dry, safe and confident.
Appearance and touch of normal underwear: reliable protection in terms of discretion and appearance of underwear to suit your style and mood.
Designed to stay in place: designed to stay in place while providing excellent protection, comfort and discretion.
Comfortable and breathable: the soft and breathable stretch fabric comfortably adjusts to your body contours.
Dermatologically tested and without perfumes: carefully tested to ensure safety and smoothness for the skin.
Available in 2 sizes: M - For hips between 75 to 100 cm; L - For hips between 95 to 125 cm.
Directions for use:
The protective underwear against incontinence is easy to wear and has clear indications on the back that show the correct way to put them on. Use the side seams that can be easily torn to remove them.