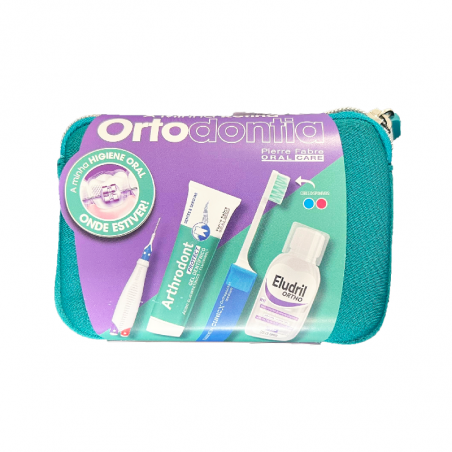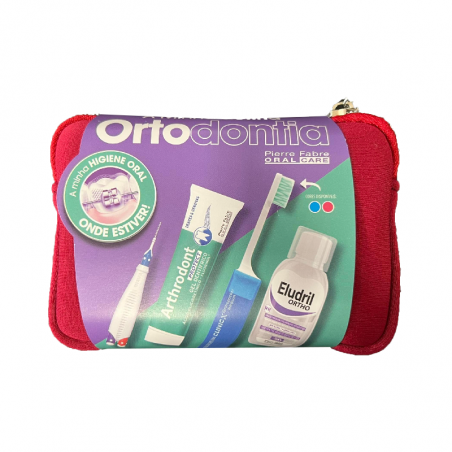 Elgydium Travel Orthodontic Kit
Travel set with an Elgydium Orthopocket Brush, Arthrodont Protect Gel toothpaste and two wide-space mixed Trio Compact toothbrushes and Eludril Ortho.
Add to wishlist
Added to wishlist
Calculate Shipping Cost
Elgydium Travel Orthodontic Kit gathers, in a pocket format, toothbrush and gel and toothbrushes suitable for patients with dental appliances.
Elgydium Arthrodont Protect Gel Toothpaste is a toothpaste gel for the daily protection of fragile teeth and gums. With its exclusive formula, it is particularly suitable for patients with orthodontic appliances, removable dentures, or those who have gingival retraction with an increased risk of tooth decay.
Features:
Toothpaste gel that contains enoxolone, known for its soothing properties, and fluorinol that quickly and intensely fixes itself on the enamel to remineralize, strengthen and protect the teeth, contributing to improve the state of the gums, favoring the efficiency of brushing.
Indicated for daily hygiene of teeth and their protection, as well as for protection of gums, in case of fragility, allowing an effective prevention of dental caries.
Recommended for patients with orthodontic appliances.
Fluorine ions: 1500ppm.
Directions for use:
Use in daily brushing, 2 to 3 times a day, after meals, with a soft toothbrush. For other sources of fluoride, consult your dentist.
Elgydium Orthopocket Brush is a toothbrush for adults indicated in orthodontics.
Features:
It presents filaments of transversal implantation in X.
Thanks to its size and folding handle, it is easily transportable anywhere and at any time.
Elgydium Brushes Trio Compact it is the only compact and practical system that combines three brushes in a single cable.
Features:
Practical and adapted: 3 brushes combined in one compact and easy to use product.
Flexible and resistant.
Ergonomic and hygienic: handle with non-slip surface, developed to store and protect the 3 toothbrushes after use.
Contains: 2 1.9mm micro fine cylinder refills, 2 4 - 3mm conical thin refills, 2 6 - 4mm conical wide refills and 2 toothbrushes.
Eludril Ortho Mouthwash is for daily use, after brushing for stronger and whiter teeth, being adapted for all types of orthodontic appliances.
Features:
It has a pleasant menthol flavor.
Leaves a feeling of freshness.
The formula contains: 0.05% O-cymen-5-ol, antibacterial agent, Fluorinol 400ppm, remineralizing agent, 0.1% Symsave H, antioxidant and soothing agent that improves the sensation of discomfort.
Usage advice:
Rinse your mouth with 15ml of pure mouthwash for 30 seconds, morning and evening, after brushing. Discard without rinsing. Contraindications: Do not ingest. Do not use on children under 12 years of age.