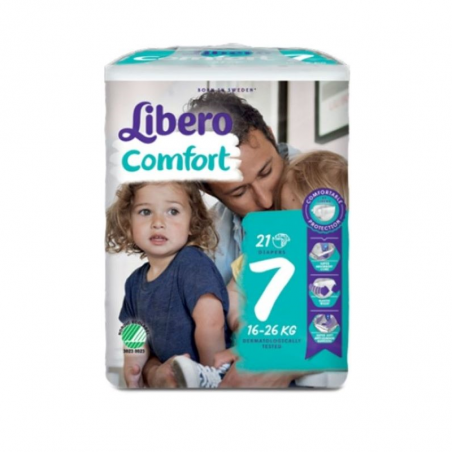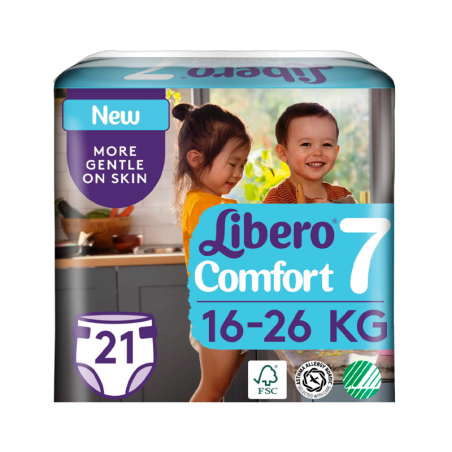 Libero Comfort 7 21 Diapers Pack 6units
For babies weighing between 16 and 26 kg.
Add to wishlist
Added to wishlist
Calculate Shipping Cost
Libero diapers are designed for comfort: the breathable outer material helps protect delicate skin and the super-absorbent core prevents leakage.
Features:
Reinforced absorption suitable for the needs of your growing baby and providing additional safety for night use. Libero Comfort 7 has a 3D absorption core specially designed to prevent leakage and provides an exceptional fit for babies weighing between 16 and 26 kg.
They help to keep your baby's skin healthy. After all, the most silky and sensitive skin deserves only the most delicate materials.
All Libero diapers have a super-absorbent core that can provide hours of leak-proof protection. This high absorption capacity, combined with the effective diaper leakage barriers, keeps baby's skin dry.
They are made with soft and delicate material for the baby's skin. The anatomically shaped interior makes the diapers fit tightly between the legs. Whether your baby is sitting or lying down, standing or walking, the diaper adapts easily to your movements.
They do not contain lotion or balm, which can cause irritation, helping to keep your baby's skin naturally fresh and healthy.
They have sticky tapes that are attached to the front of the diaper and that can be opened and closed as many times as necessary to achieve the perfect fit.
They offer exceptional dryness. A layered protection system quickly removes liquid from the skin's surface into the diaper, minimizing redness and helping to keep baby's skin dry and healthy.