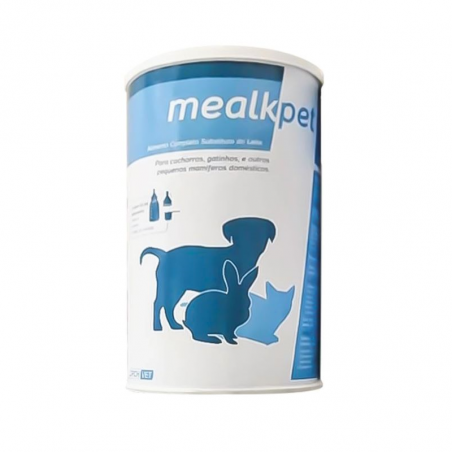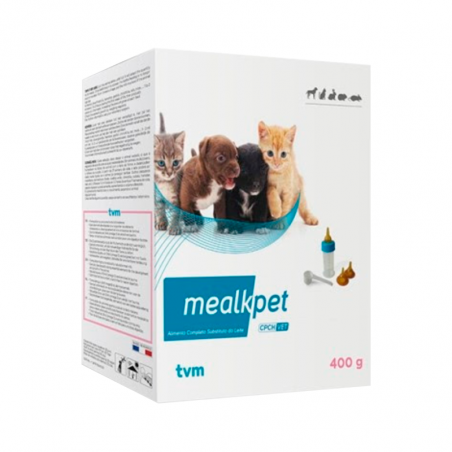 Mealkpet Powder 400g
Complete milk substitute food for dogs, kittens, and other domestic mammals.
Add to wishlist
Added to wishlist
Shipping from €23.90 to USA buy it today.
Calculate Shipping Cost
Mealkpet Powder is indicated for the lactation of orphan animals, as a complement to maternal lactation and/or during weaning.
Features:
It ensures a balanced supply of all the energetic, structural and vitamin elements essential for the harmonious growth of the animal.
It has an optimized lactose content and ensures a supply of easily assimilated essential fatty acids.
It is also enriched with vitamins and minerals.
Composition:
Milk Powder, Vegetable Oils (Palm and Coconut), Whey Powder, Lactose Free Whey Powder, Wheat Starch, Calcium Carbonate, Sodium Chloride, Iron Sulfate, Zinc Sulfate, Manganese Sulfate, Calcium Iodate, Sodium Selenite, Vitamin A, Vitamin D3, Vitamin E, Vitamin K3, Vitamin B1 (hydrochloride), Vitamin C, Vitamin B12.
Usage advice:
Dogs, Cats, Ferrets: Administer 2 g of Mealkpet Powder for every 60 mL of water. Dwarf rabbits, chinchillas, hamsters, gerbils and octodons: Administer 4 g of Mealkpet Powder per 60 mL of water. Guinea pigs: Administer 1.5 g of Mealkpet Powder for every 60 mL of water. During the first week of life, give 1 to 3 mL of this mixture every 1 to 2 hours. Then begin to gradually space the administrations, increasing the volume delivered at the same time.