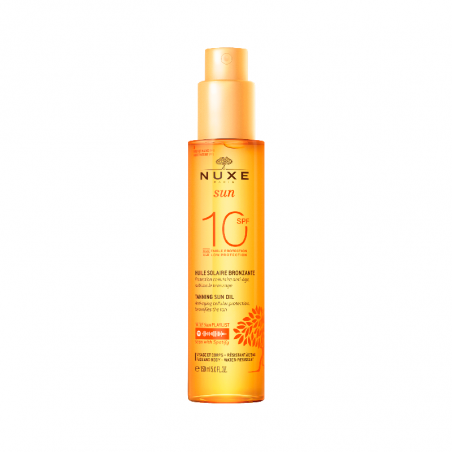 Nuxe Sun Tanning Oil SPF10+ 150ml
Tanning oil with sun protection and anti-aging cell for a sublime tan.
Add to wishlist
Added to wishlist
Shipping from €13.80 to USA buy it today.
Calculate Shipping Cost
Nuxe Sun Tanning Oil SPF10+ guarantees optimal protection and a glamorous tan.
Characteristics:
This tanning oil, with flowers of water and sun, offers cellular anti-aging protection and provides a sublime tan.
Its non-sticky texture, without alcohol, without mineral oil leaves a satin finish.
Protects, moisturizes and leaves skin hydrated and luminous.
Irresistible fragrance with notes of Sweet Orange, Tiare and Vanilla.
Suitable for all skin types, face and body.
Contains: Water hyacinth, Kau Pe flower from Marquesas Islands, Rice Extracts, Rosemary and vegetable DNA precursor, 3 chemical filters, Macadamia Oil and Shea Butter.
Directions for use:
Before sun exposure, apply a generous amount of product. Renew frequently, especially after swimming or drying. If a sufficient amount of product is not applied, the level of sun protection will be considerably reduced.