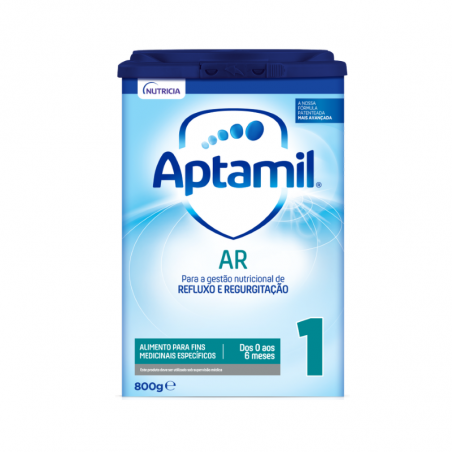 Aptamil AR 1 800g
Dietary food for reducing regurgitation in babies, from 0 to 6 months.
Add to wishlist
Added to wishlist
Calculate Shipping Cost
Aptamil AR 1 It is a food for specific medical purposes, complete and suitable as a unique food source, especially suitable for meeting the nutritional needs of infants with frequent regurgitation, from birth to 6 months of life. It must be used under medical supervision.
Features:
Specially developed to help reduce the risk of occurrence and severity of episodes of regurgitation in infants. Aptamil AR 1 contains a specific ingredient (locust bean flour), a natural thickener that makes milk more viscous during the digestive process, and which is clinically proven to reduce regurgitation in babies.
Aptamil AR 1 guarantees the nutritional needs of infants from birth, for proper growth and development. From the age of 6 months, and according to the recommendation of your health professional, the introduction of a diversified diet can begin.
Directions for use:
Wash your hands thoroughly and use clean and sterile utensils. Boil the water for 5 minutes and let it cool for about 30 minutes to approximately 40ºC. Pour the appropriate amount into the bottle. Cover the bottle and shake until the powder is completely dissolved. Before feeding, make sure the milk is at the right temperature. Consume immediately after preparation. Never keep the remnants of the dose.