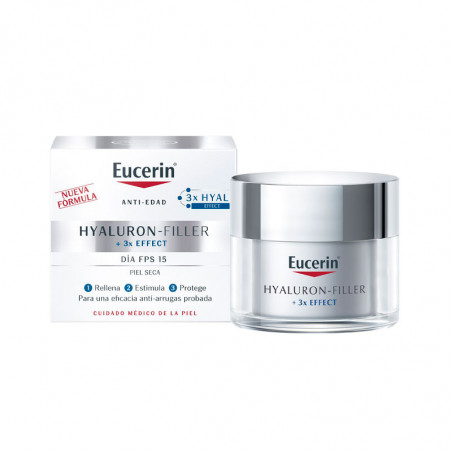 Eucerin Hyaluron-Filler Dia Dry Skin 50ml
Anti-wrinkle day cream for dry skin, with SPF15 and UVA protection.
Add to wishlist
Added to wishlist
Calculate Shipping Cost
Eucerin Hyaluron-Filler Dry Skin Day is an advanced formula of anti-wrinkle day cream with Hyaluronic Acid for dry skin designed to smooth out even the deepest wrinkles.
Features:
Contains a unique formula of Hyaluronic Acid with low and high molecular concentration to act on the wrinkles from the inside, and Bioactive Glycine Saponin to stimulate the skin's own production of Hyaluronic Acid, increasing hydration retention and smoothing the skin from the inside.
The SPF15 and UVA protection effectively prevent premature aging and the deepening of wrinkles.
Creates an excellent make-up base.
Directions for use:
Apply Eucerin Hyaluron-Filler Dia Dry Skin on the face, neck and décolleté, gently massaging the cream into the skin, avoiding the delicate area of the eyes.To intensify the benefits of filling Eucerin Hyaluron-Filler Dia Dry Skin, incorporate Eucerin Hyaluron- Filler Eye Contour, Night and Concentrate, as part of your daily routine.